March 14, 2017 in Home Tips
Power It All

A standby home generator keeps your power on during an outage. It's installed outside your house (like an AC unit) and comes on automatically — whether you're home or away. All within seconds of a power outage.
Plus home generators run on propane or natural gas, so there's no refueling.
Fridge/Freezer
Electronics
Heat/AC
Lights
Water
During an outage, your food is the first thing to go. That's a lot of hard-earned cash out the window. Good news though: we love your groceries as much as you do.
TV, tablet, computer. These things keep you connected to the world and what you love to do. We keep them powered and protected from erratic power surges.
Whether it's the dead of winter or the dog days of summer, your HVAC is what keeps your family comfy and your home protected. And when your HVAC's happy, everybody's happy.
Let there be light. That's our philosophy anyway. Come hurricane, hail or ice storm, your home will still be sunny inside.
Running water is a big deal—you need it for drinking, cleaning and flushing. On the other hand, if it's running into your basement that's another kind of big deal—really big. If your home depends on well water or a sump pump, we keep everything working as it should. That means faucets, toilets, showers, washing machine, sump pump and more.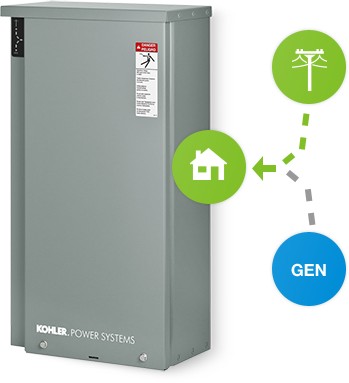 Your automatic transfer switch (ATS) monitors the electricity coming from the utility. It's working 24/7 to protect your home.
Power Indicator
This handy little device is located on your automatic transfer switch. It tells you where your home's power is coming from — utility or generator (see colored icons to right).
Weekly Self-Test
Your KOHLER® generator will exercise itself and run diagnostic tests for 20 minutes each week to make sure it's ready when needed. And guess what? It happens automatically.
OnCue® System
With OnCue Generator Management System, you can manage your KOHLER home generator, receive updates via text or e-mail, view real-time power operation and more. All from your computer, phone or tablet.